Message from Director, President and Representative Executive Officer
I would like to open this message by expressing my heartfelt gratitude to one and all for your untiring support for JAPAN POST BANK Co., Ltd.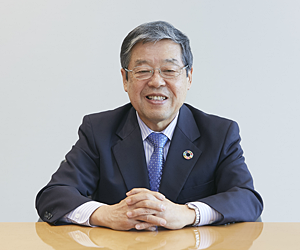 In March 2017, JAPAN POST BANK announced the "Business Development for Future Growth of JAPAN POST BANK." These plans lay out the "Directions for the Bank"—a roadmap for achieving sustained growth by leveraging the Bank's strengths. Our strengths lie in extensive operations covering locations throughout Japan and an extremely large base of account-holding customers, and our possession of an unparalleled financial infrastructure (backbone) to support transactions, comprising a nationwide network of post offices and ATMs.
There have been no major changes in the current pressures faced by financial environment and the rapid pace of upheaval. In this climate, the Bank seeks to further enhance its corporate value based on the following three pillars: "Customer-oriented financial services," "Funds flow to regional communities," and "Diversification and Sophistication of investment management."
As a major milestone toward realizing those specific measures, the Bank obtained regulatory approval of the following new services on June 19, 2017:
Overdraft Services

Application for approval related to services to provide automatic overdraft of the insufficient amount in cases such as an automatic transfer payment exceeding the account balance, as part of our settlement services.

Operations Related to Cooperation with Regional Financial Institutions, Etc.

Application for approval regarding services incidental to the operations JAPAN POST BANK is able to carry out under the Postal Service Privatization Act, such as sharing administrative work with regional financial institutions.

Market Investment-Related Business

Comprehensive application for approval concerning market investment-related business such as CDS (credit default swaps) in order to promote the sophistication and diversification of investments.
Looking ahead, we will concentrate our business resources and align the efforts of management and employees along the same direction as we strive to realize our vision for the Bank. We will work tirelessly to ensure that customers, shareholders and all other stakeholders are able to appreciate and benefit from the Bank's growth. We look forward to your continued support as we endeavor to reach this goal.
August 2017
JAPAN POST BANK Co., Ltd.
Director, President and Representative Executive Officer