Message from Director, President and Representative Executive Officer
I would like to open this message by expressing my heartfelt gratitude to one and all for your untiring support for JAPAN POST BANK Co., Ltd.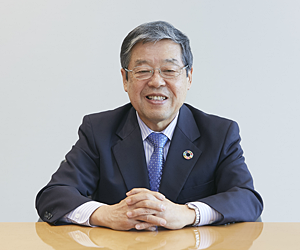 In May 2018, JAPAN POST BANK unveiled a new Medium-term Management Plan (FY 2019/3 to FY 2021/3). Looking 10 years into the future, we formulated this plan with the intention of establishing a business model that will allow us to stand side-by-side with the customers we steadfastly support in their efforts to live safe and secure lives, while continuing to enjoy sustainable growth.
As it embarks on a new Medium-term Management Plan, JAPAN POST BANK has adopted a new slogan: Have more people say "JP Bank, of course."
This slogan encapsulates our aspiration to fortify our connections with our nationwide customers, who place their trust in JAPAN POST BANK and see us as an essential part of their lives, and to become an even more trusted bank, working through a network that is comprised of over 24,000 post offices and branches.
JAPAN POST BANK is currently in a transition phase. Breaking free from past convention, we are evolving into an entity that is capable of sustainable growth for the next 10 and 20 years. Under the banner of our new slogan, I am committed to uniting the Bank as a single force and spearheading efforts as I lead the way forward for all employees. We look forward to the continued support of all customers, shareholders and other investors, and all other stakeholders, as we endeavor to realize our ambitions.
September 2018
JAPAN POST BANK Co., Ltd.
Director, President and Representative Executive Officer