I would like to express my heartfelt sympathy to all those who were affected by the COVID-19 pandemic.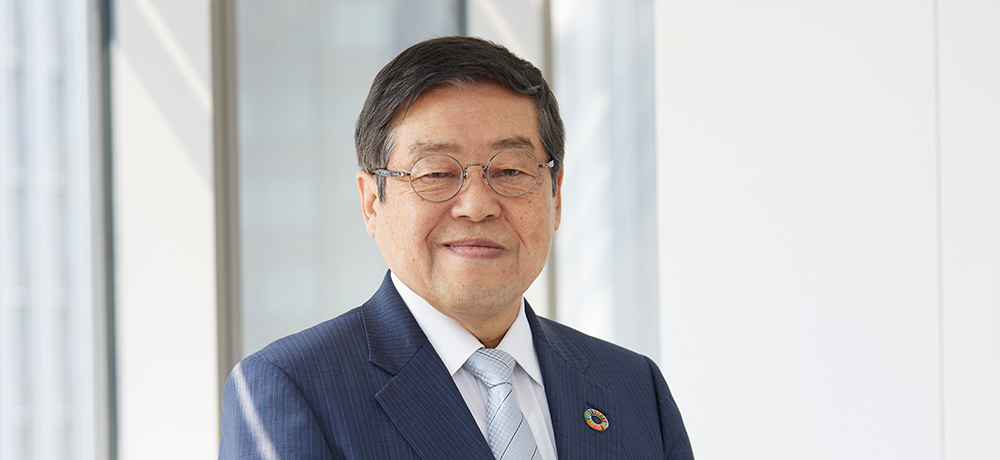 During the coronavirus crisis, the business environment surrounding domestic manufacturing industry is changing dramatically enough to be described as the Forth Industrial Revolution.
To continue to grow, create social value, and enhance corporate value necessitates making full use of the Bank's strengths and management resources.
Under these circumstances, in May 2021, Japan Post Bank reaffirmed our purpose, "We aim for the happiness of customers and employees, and will contribute to the development of society and the region."
Looking ahead to how the operating environment was changing, we held lively internal discussions, and announced a new Medium-Term Management Plan (fiscal year ending March 31, 2022 through fiscal year ending March 31, 2026).
This new plan, under the slogan "Deepening trust, and taking on the challenge for financial innovations," aims to aggressively promote business model reforms and strengthen business sustainability through five key strategies: 1) Innovating retail business into a new form by realizing complementarity between the physical and the digital; 2) Business reforms and productivity improvement through the active utilization of digital technology; 3) Enhancing funds flow to regional communities and the regional relationship functions through various frameworks; 4) Deepening market operations and risk management with an awareness of stress tolerance; and 5) Strengthening the management base to become a more trusted bank.
Placing top priority on safety and security, we will expand digital services that are easy for all customer to use, and promote the spread of digital services by utilizing our post office network. In addition, we will endeavor to build an open "co-creation platform" that leverages our customer base to provide optimal services through collaboration with a wide range of businesses, and all executives and employees will work together to take on the challenge for financial innovations.
Going forward, Japan Post Bank aims to establish the significance of the Bank's purpose of existence in Japan, by focusing on regional co-creation, management centered on the realization of regional financial platforms, business that integrates the real and the digital, including the post office and ATM network, and proactive investment in growth fields centered on expansion into more sophisticated fund management sectors.
In 2021, the JAPAN POST Group is marking 150 years since its founding in the postal business. 146 Years have passed since its establishment when, in line with the times, the postal savings system changed from state to private ownership, but its mission of "creating a form of social infrastructure that everyone can use fairly " has continued to be handed down to this day.
Although the Bank is operating in an adverse environment, if all executive and employees can unite and take on challenges, I believes that we can create new value for all our stakeholders.
In the hope that they are as excited as I am about the Bank's future prospects, I would like to take this opportunity to thank our shareholders and investors and ask for their continued support and understanding in the coming years.