Message from Director, President and Representative Executive Officer
I would like to open this message by expressing my heartfelt gratitude to one and all for your untiring support for JAPAN POST BANK Co., Ltd.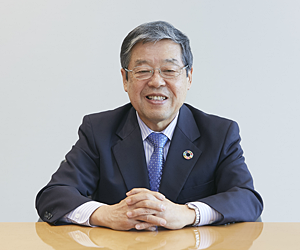 In May 2018, JAPAN POST BANK adopted the slogan: Have more people say "JP Bank, of course," while putting in place and embarking on a new three-year medium-term management plan. As the mid-point and second year of our Medium-term Management Plan, the fiscal year ending March 31, 2020 is an important 12-month period.
While the external environment continues to remain harsh, JAPAN POST BANK undertook steps to promote the three ways of its Medium-term Management Plan.
In the fiscal year ended March 31, 2019, the Bank made steady progress with efforts to provide high-quality customer-oriented financial services, pursue the diversification and sophistication of investment management and promote the flow of funds to regional communities. Considerable success was achieved in laying the foundation for growth from the fiscal year ending March 31, 2020. Taking into consideration our performance and various issues in the fiscal year ended March 31, 2019, we will push forward a wide range of initiatives in the current fiscal year.
I intend to pursue management with enthusiasm and a deep sense of responsibility so the Bank can achieve growth moving forward and shareholders and investors can share in the improved corporate value as a result of this growth. I would like to thank our shareholders and investors and ask for their continued support and understanding in the days ahead.
August 2019
JAPAN POST BANK Co., Ltd.
Director, President and Representative Executive Officer