Relationship with International Frameworks (SDGs)
At the "United Nations Sustainable Development Summit" held on September 25, 2015, "Sustainable Development Goals" (SDGs) were set out as universal goals to achieve by 2030, and the whole international community started work on new initiatives.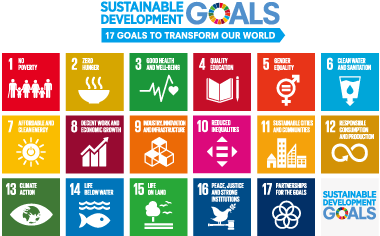 JAPAN POST BANK will strive to achieve the following goals in light of the characteristics of our business activities, and contribute to the development of a sustainable society.
Customers & Markets
Customer-oriented Business Operations
Providing High-quality, Customer-oriented Financial Service
Customer Protection
Universal Services
Response to Disasters and Accidents



Regional Communities
Funds flow to regional communities
Fostering the next generation human resources




Employees (Diversity Management)
Promoting Diverse Human Resources
Fostering an Inclusive Corporate Culture
Hiring Diverse Personnel
Career Formation Support
Work-life Balance Management
Promoting Women in the Workplace
Initiatives on Health Management
Work Style Reform
Raising Awareness and Conducting Education about Human Rights



Environment
Initiatives toward Environmentally Friendly Services
Environmental Management
Environmental Conservation Activities



JAPAN POST HOLDINGS Co., Ltd. also participates in the United Nations Global Compact* as the representative of JAPAN POST GROUP.
*The United Nations Global Compact was proposed by then UN Secretary-General Kofi Annan at the World Economic Forum held on January 31, 1999, requesting that each participating organization practice 10 principles in four fields (human rights, labor, environment, and anti-corruption), within their scope of influence.