Compliance
Compliance System
For JAPAN POST BANK, compliance comprises adherence not only to laws and regulations but also to internal rules, social standards of behavior, and corporate ethics by all directors and employees. We are striving to be the most trustworthy bank in Japan, and consequently we view compliance as an important management issue. Accordingly, we conduct rigorous compliance activities.
The Bank has established the Compliance Committee, which is composed of Executive Officers with responsibilities related to compliance issues. The committee holds discussions about important compliance-related matters and their progress reports. In addition, the Bank has established the Compliance Management Department under the leadership of the Executive Managing Officer responsible for compliance. The department formulates compliance promotion plans and manages their progress.
We have also appointed compliance officers in certain departments who are independent from business promotion and other conflicting functions. Through their activities, we monitor the progress of the implementation of compliance-related initiatives. Moreover, we have appointed compliance managers in departments and branches who are responsible for mentoring employees and promoting compliance.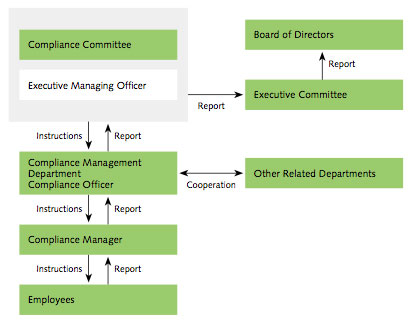 Compliance Initiatives
Every year the Bank formulates the Compliance Program, which serves as a detailed action plan for the promotion of compliance. With this program, the Bank rigorously implements compliance-related initiatives and conducts training for employees.
In addition, the Bank has formulated the Compliance Manual, which serves as a guide to the Bank's approach to compliance and various compliance items. We fully utilize these manuals, such as at training sessions for directors and employees, to enhance awareness and understanding of their content.
Each director and employee has received the Compliance Handbook, which contains the most important, baseline compliance items from the Compliance Manual that JAPAN POST BANK directors and employees need to be aware of. In this way, the Bank further raises compliance awareness.
Furthermore, the Bank has established whistle-blower systems for compliance, both within and outside of the Bank. These systems can be used when employees encounter compliance violations or potential compliance violations and they find it difficult to report to the person responsible for compliance in their office. In these situations, they can make reports directly through the whistle-blower systems.Through these systems, the Bank is working to prevent compliance violations from occurring and to quickly resolve any problems that may arise.
With these measures, the Bank has established a framework for effective compliance through the formulation of a clear-cut approach to compliance and the implementation of compliance promotion initiatives.