Message from Director, President and Representative Executive Officer
I would like to open this message by expressing my heartfelt gratitude for your untiring support for JAPAN POST BANK Co., Ltd.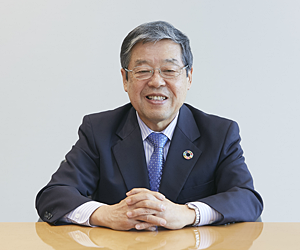 JAPAN POST BANK was listed on the First Section of the Tokyo Stock Exchange in November 2015 in an effort to secure management discretion and establish an autonomous management structure.
Based on a Super Regional & Super Global business model, JAPAN POST BANK is aiming to remain "the most accessible and trustworthy bank in Japan" for its customers, along with seeking to secure stable profits as the largest institutional investor in Japan.
Specifically, we will implement regional approaches in tune with customers in every corner of Japan by harnessing our nationwide network of approximately 24,000 post offices. In conjunction with this, we will strive to ensure stable revenues through global investments by advancing an increased level of investment sophistication on the basis of appropriate risk management.
Going forward, each and every employee will continue working in unison to increase our corporate value further. We look forward to your continued support as we endeavor to reach this goal.
July 2016
JAPAN POST BANK Co., Ltd.
Director, President and Representative Executive Officer